Recruitment Status: Positions for 2021/22/23

Educators for Math, English, Science, PE, Arts, French, Spanish, Design, Technology, Social Studies, ESL, Music, Special Needs, Computer, Economics, Primary/Elementary Classroom and more!
Also needed: Principals, Counselors, Librarians, Department Heads, Coordinators, and other Administrators.
Travel restrictions do not apply to foreign hires
Did you know that as an educator, you can live and work virtually anywhere in the world?
The beauty of the teaching profession is that it is global and truly international. Every world capital has several US, British, Canadian, and independent international schools. If you know how to join the "club", your world has literary no borders!
An international lifestyle, a network of friends around the world, all those things that only happen in the moves, they suddenly become a reality. Scroll for the vacancies and registration details.

You don't have to quit your current job!
Most overseas hiring dates are before the US and UK teacher contract period. You don't risk anything by checking out the international opportunities.
Interview online and get your visa approved, then book your fight! That's right, you don't need to travel to an expensive international job fair. It's all on Skype.
Your timeline
Most international schools start recruiting in the fall, with the bulk of openings in winter and early spring.  You have plenty of time to sort through job offers and pick your best location, or change your mind.
For best results, we recommend to allow yourself a year to plan and execute your move. Teaching abroad is a big market. Understand how the system works before making a big decision. Avoid the common traps and select the best routes. It's all covered in our easy to understand recruitment guide.

The Joyjobs Advantage:

Daily Jobs: Europe, Asia, America and beyond!
Verified openings for elementary and secondary educators. Search for subjects, schools, countries or regions. Apply today!

CV/Resume Service
Do not recycle your domestic resume or, worse, buy an expensive "media" package. Land an international position with our customized CV service.

Your Landing Page for recruiters
This is where it all comes together: your CV, photo, references, and support files. Submit your info, and we'll make you shine. Keep it private from Facebook, Google, and Linkedin.

The Insider Secrets to Finding a Teaching Job Overseas
Start with this step-by-step Guide. Do not accept an employment offer until you read it.

Personal Support, 24/7
Immediate assistant whenever you need it. We don't forget about you after you sign up!
It's all you need to land a job!
You may not be ready yet and it's OK. Take your time to think it over.
You may be skeptical about this website... And that's a totally normal and healthy emotion. You SHOULD be skeptical. The fact is, there are so many websites out there, that if you weren't skeptical then you'd go broke from buying every service and subscription.
That's why we built JOYJOBS to be the last recruitment tool you'll ever need...
We have been in recruitment since 1998 and we have seen everything. Now it's your turn to take advantage of the system.

Upgrade your life to a new level
Contrary to the prevailing opinion, you can have a more comfortable lifestyle, make more, and save more when you move abroad.
Did you see any media coverage of the international job market? Any good story in the news? Unlikely. Most successful people don't want to reveal their secrets. We know one school in South East Asia where salaries have been so much above the cost of living that no teacher has left the school in 18 years!
It is simply impossible to save so much cash in the States, primarily because of healthcare costs, mortgage, credit card debt,  and other expenses.
There are indeed many low-paying positions, especially with local ESL schools and religious organizations. There are volunteer positions. There are even programs require you to pay to join in. People go after these jobs in search of rewarding experiences.
However, the most lucrative teaching jobs are also overseas. Teaching overseas can be anything you want it to be - rich experiences, personal enlightenment, help to others, financial success, etc.

"As a Vice Principal, I was making 8 thousand a month (tax-free) in Abu Dhabi. The school paid my rent for a two bedroom apartment. I traveled to 6 different countries in one year and was able to save 50 thousand dollars in one year. It was worth taking the chance." —Sheila D. L. - USA / Singapore
How you end up with more money
A penny saved is a penny made. The same (or lower) salary will take you a long way if you don't have the typical expenses: housing and car payments, insurances, utility and health care bills, credit card payments, taxes, etc.
Deduct these expenses from your budget and add more for lower cost of living in many foreign countries, and you will end up with 10-20 thousand dollars of disposable income. After 8-10 years of comfortable life overseas, you can return home loaded with cash. Can any teaching job in the US provide you with anything similar?
It's up to you and your lifestyle choices. We know many people who taught abroad for many years and didn't save anything. Because their goal was to enjoy life to the fullest. For those who dream of lucrative contracts, we must say this:
You must have a plan and stick to it.

The temptations are abundant and most new overseas teachers travel a lot in the first few years. It is easy to spend all your extra cash on travel!
For example, our friends from Kansas used to make a long trip halfway across the globe, instead of a direct flight, when going home for the summer vacation.
Our money-driven culture shapes people in a way that most of us think of it first when it comes to a job search. However, after some time abroad, your priorities can change dramatically. As your mind evolves, you see the world and yourself differently. You stop worrying. You let go of things.
The usual response is, yeah, but how do I even begin? If you are baffled by the recruiting timelines, CVs, reversed school calendars, international job fairs and application requirements, you are not alone. 
Many people are reluctant to get started because of the perceived difficulty. Some of it is true. The top-notch International schools are picky. Without prior overseas experience and references, penetrating this market may be a challenge.
—How to approach the prospective schools? Where to find them? Are there any special requirements? What salary/benefits package should I expect? How do I know if it is a reliable school?
The more you research all the different options, the more confusing the decision gets. 
As long as your current job gives you professional and financial satisfaction you couldn't care less. Until, one day, you decide to give it a break and go overseas to look for greener pastures.
Suddenly, the choices and questions become maddening.
Lots of potentially good candidates are grounded before they even get the recruitment process going. Meanwhile, our members report multiple job offers. What is the secret?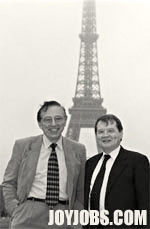 Why do the schools love our candidates?
Because they are P-R-E-P-A-R-E-D.
The principle is simple: If you want to be successful, find someone who achieved the results you want and copy what they do, and you'll achieve the same results!
The good news is that we have a lot of resources at your disposal. In fact, everything you need to land your international teaching job is right here!
We usually recommend that you allow yourself a year to plan and execute your move. Your actual recruitment is usually quick, but you still need time to research, apply and follow up.
Note that many countries require background checks and health clearances. They take time. And it will take even more time if your paperwork has some initial errors. In other words, it is never too early to begin.
Unfortunately, some people try to save a few bucks on what should be essential research. Many times it ends up badly. Here's a parent trying to get help from us:
"I'm trying to help my daughter and boyfriend... the experience upon arriving is horrid. They were literally driven 3 hours away from the airport and "dumped". The provided room and board are horrid. No mattress so they can't sleep! They have no phone, no contact numbers, there absolutely no English to be found. All I know it was through the internet they found this. Please help! Debbie"
Don't be like Debbie's daughter and her boyfriend. Don't use free message boards. Don't jump on the first job offer. Research your school BEFORE you board the plane.
Who dares, wins!

"I secured 9 interviews, cancelled the last 3 and got 6 job offers! I will be spending the next 2 years teaching for the American School in Guadalajara!"
—Lisa
Decide if are ready to take the plunge
Applying to a wide range of schools is a safe method to probe the market while keeping your current employment secure. You may have several offers to evaluate. At any moment, you can withdraw your application without any consequences. However, there's a point when you have to make a decision.
This moment is when you sign a contract. Once a contract is signed, your job search is over. You are expected to report to your new school and country, as specified in your contract. Failing to do so may have serious consequences for your future applications.
—Is it going to work for YOU?
The only way to test the waters is to apply. We have a lot of feedback to prove that the system is working. As long as you are reasonably qualified and flexible about locations. Follow our guidelines and you'll be recruited.
Seriously, give it a try. You have nothing to lose!