Your CV must outperform the competition
Our pre-formatted CV templates are designed specifically for the international teaching market. They eliminate the common errors that plague almost every candidate.
Every registered member has unlimited access to The CV Resume Sampler. We'll also help you work out the wrinkles and finalize your file for upload. If needed, you can make changes at any time.
Our CV templates reflect the newest tendencies in the CV design, such as bypassing an "objective", postal/street addresses and other nuances.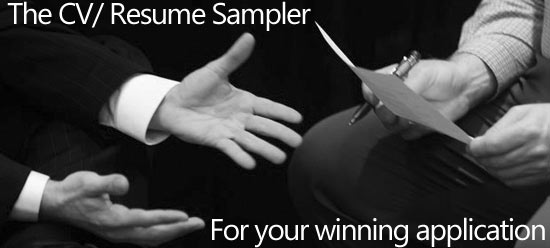 International CVs are often the weakest link. For example, almost every one of those "professional" CVs will include the dreaded "Objective" or "Mission Statement".
The top of your CV is the most valuable real estate. Use it wisely. In the educational environemnt, placing a corporate-style "objective" is a waste (schools infer your objective from your CV title, e.g. "Jane Dow, Teacher of Mathematics").
Furthermore, the egocentric concepts such as "realizing my potential", "learning about the world", "expanding my horizons" are meaningless distractions. For schools, the goal is to resolve their recruiting challenges rather than help candidates realize their potential.
The easiest path to achieving your personal goals is to address the school needs. To win this round, your application must be a solution the recruiter is looking for. Nothing more, nothing less.
At Joyjobs, we'll make sure that your CV is clear, concise, and void of any distractions. When your CV offers a solution to an appropriate vacancy the school responds with a job interview.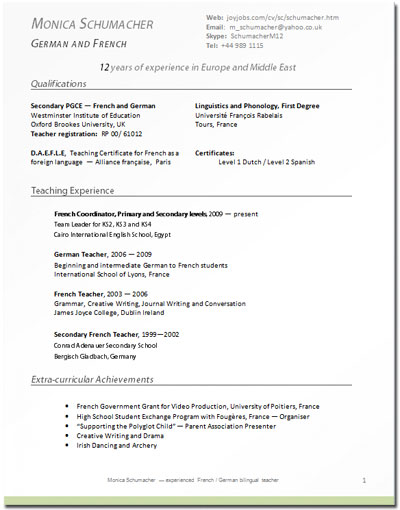 Recruiters process CVs in the same way as you would look at somebody's Facebook page: by checking out points, and jumping from section to section. Your CV must remain coherent when it's read in this manner.
Because of the Personal and References, an international CV is going to be longer. Don't worry about it. We keep all essential information on the front page: your degrees, teaching credentials, job titles, employers, countries and dates.
The less critical information goes to the following page(s), including your personal details. When you follow this principle, your CV can be of any length, exceeding the two page rule, with no problem at all.
To maximize readability, we clear out the clutter. Some common distractions to eliminate:
– Trivial descriptions, use of adjectives and adverbs, i.e. "Communicated effectively with the parents."
– Inconsistent typography (various fonts and sizes.)
– More than 5 bullet points in a section.
– Background images, graphics.
– Vertical lines / sidebars.
– Page frames or shaded boxes
– Large blocks of text.
It's all about clarity and consistence. Done right, a simple Times New Roman, 12 point document will outperform a comparable $300 piece from a resume-writing house.

A professional application will separate you from the crowd of "typical" candidates.
As a JOYJOBS member, you will have your own recruitment page to include your CV, photo, introduction and other details - everything that the schools need to advance your application to the next level: a job interview.
Attention! You are going to need a photo.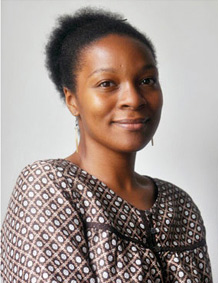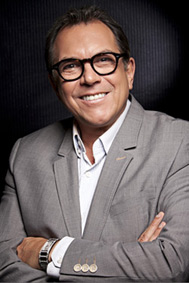 Unlike US employers that must reject photographs for legal reasons, most international schools require your picture.
For a smart job seeker, a professional image is yet another opportunity to get ahead of the competition.
Remember that every detail in your application must work for you. Otherwise, it works against you. A sloppy selfie can damage your otherwise excellent application if the recruiter finds your appearance unprofessional.
Overwhelmingly, most candidates will benefit from an external review of their application. We'll make sure that your CV works. CV critique, resume formatting and layout help are available to registered candidates.