Go to Vacancies.
Enter your teaching area, for example Literacy. (You can also search for schools and locations, e.g. Europe, "Berlin Metropolitan", "Singapore American", and so on.)

A list of matching job offers will show on the left. Click on the links for the details and to apply. Sample: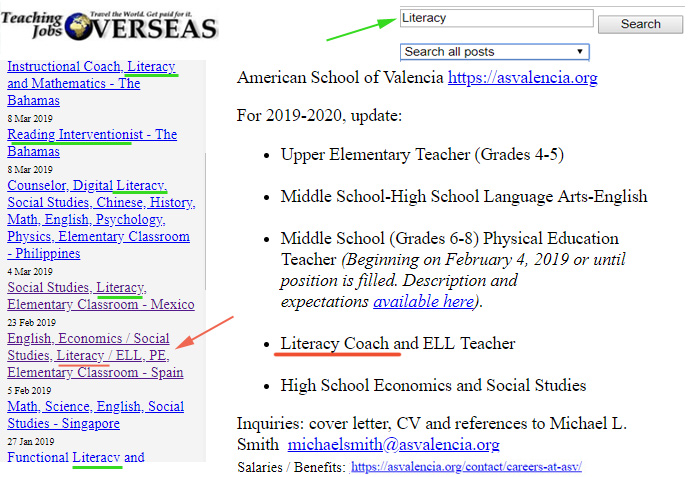 Get to the point right away. Say who you are, what you teach, and when you want to start. Include your webpage link, e.g. "Click to view my photo, resume and references: http://joyjobs.com/cvs/bakersample.htm "


Don't waste time explaining how you found out about the job. You don't gain any points by doing so and you slow down the recruiter.

Respect the recruiter's time. Large blocks of text require time and effort to digest. Don't lay big claims on the recruiter's patience.

Use the school's verbiage. Customize the cover letter to mimic the job description. Make it easy for the recruiter to understand that you are a match for the position.

Don't beat about the bush. Call for action: ask for an interview, inquire about the next step, request information, and so on. The absolutely worst situation is when a candidate sends four long paragraphs of turgid text followed by "Thoughts?"

Eliminate unnecessary attachments. The only legitimate attachment is your CV (resume) which should include your photo. Unless explicitly requested, don't send any degrees, certificates, transcripts, IDs or letters of reference.

When sending attachments, give them descriptive names:
Even before a recruiter opens your CV, they'll see the name of the file. You want to look good from the very start. Distinguish yourself from the pile of nameless documents. Use your name and specify what the file is about.
To give you an idea, here are some bad samples:
My Final Res.pdf,

CV.doc

Updated_res_2.doc

Ref_0827.docx

DCIM_09882.jpg
Recruiters go through hundreds of applications. Generic names are indistinguishable and sloppy: My new resume fixd.pdf

Your file must be identifiable and self-explanatory by its name. Attention to the detail is always a welcome touch:
John Bauer, CV_Math.pdf

Lisa Brown, References.pdf

Robert Teller, Photo.jpg
We'll verify your application for errors. Apply with confidence!
Our candidates around the world: