How much schooling have you guys had?
Asked by Tabitha Terry
Igor:
Pamela has Masters degree in Elementary Education and also holds a BA in Fine Arts. I have a BA in English and German.

Have you ever regretted being overseas because you were too homesick and too far away from your family?
Asked by Beth Marsh
Igor:
No, never! Nobody we have taught with overseas ever regretted this experience. Moreover, people feel fortunate to have found this opportunity.
In the past two or three years, however, I have received a couple of e-mails from some disappointed teachers. This typically happens when a person goes abroad unprepared or makes poor choices — just like any other job. The majority of our friends remain overseas; nobody really wants to return home. When you teach overseas the whole world becomes your home. It's like leaving your parent's house. If you like to be on your own, teaching overseas is for you.
Pamela:
When you move from Vermont to Nevada, you are as far from (or just as close to) your former friends as when you go to Germany or Singapore. The difference is that if you move to Germany or Singapore, you will usually fly home for a few weeks every summer. Besides, telephones and e-mail are found most everywhere, even in Central Africa. The other important difference is that when you teach abroad you finally leave your couch and TV, and enter a whole new world of REAL people and places. What is there to regret? I've written a separate Web page about why I love teaching abroad: http://joyjobs.com/community/teaching.html

Can Canadians get jobs with the American Department of Defense Schools? If so, how?
Asked by Hazel J. Hewitt
Igor:
Canadian teachers are quite popular with American-sponsored international schools abroad. However, to be employed by the U.S. Department of Defense, one must be a U.S. citizen. For more information on the Department of Defense Schools (DODEA); you can find it on Google easily.


I would like to know who you contact for overseas teaching positions. You mentioned international schools. Please respond with an address or e-mail. Thanks!
Asked by Deborah Danyluk
Igor:
Dear Deborah, there are about one hundred international schools that employ over 35,000 teachers each year. In addition there are about one hundred DoDDS and British schools abroad. Additionally, there are thousands of local English language schools and academies worldwide.
The best way to secure a good position overseas is to attend one of the major recruiting fairs held annually in the United States, Canada, England and various other locations around the globe. The oldest and largest international recruiting fair is held by the University of Northern Iowa. Other large recruiters include: the International Schools Services, the European Counsel of International Schools, and Search Associates. To help new teachers enter this new and exciting world, we have written a comprehensive guide.
Pamela:
For direct assistance, you are welcome to email us. Since 1996, we have posted hundreds of answers about various aspects of finding work, and living and teaching overseas as well as thousands of actual job vacancies. Prepare to spend some time at our informative website!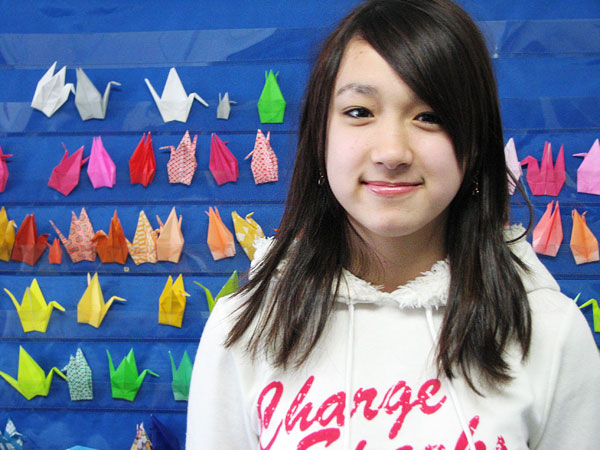 Pam's student. Fukuoka International School - JAPAN 2011

I am currently teaching in Manitoba. I have two years of teaching experience. I would like to know what the minimum qualifications are for teaching in Australia.
Asked by Winnie Ferguson
Igor:
We cover the international schools, primarily. Most of these schools are located outside Australia, USA, UK, Canada and the other English speaking countries.
As far as the public schools in Australia are concerned, the present migration requirements for teachers are for an award, which is comparable to an Australian bachelor degree, plus at least a year of professional studies and teaching practice in education at a recognized institution.
Even if your qualifications are accepted by a registration board or employing authority, you're not guaranteed employment as a teacher. Employment will depend on other factors — for instance, the number of vacancies or your suitability for a particular job.
Pamela:
There are many other important details. You should contact the nearest Australian embassy, high commission or consulate. Some vacancies are available online.


I would love to be an overseas teacher, as I have always wanted to travel and teach. I was wondering how I could become a teacher overseas, and how you felt about your teaching job?
Asked by Jessica Bond
Igor:
It's a rewarding job. You only have to be a graduate from a university or teacher's college, and have certification from some state. It helps to have two years of teaching experience, but sometimes you will be hired if you have lived overseas for some time. The more teaching experience you have, the better — and make sure your grades and recommendations are top notch. Good luck!


What's it like to go places that you've never been before?
Asked by Jennifer
Pam:
Well, this is one of the reasons to live and travel overseas! It's terribly exciting, and it makes every day an adventure. If you love to experience new sensations, then each day becomes a treasure. You will undoubtedly see amazing people and situations, smell unusual smells, and taste food combinations you never thought imaginable.
It's also very exciting to go to a place that one has only read about or seen in pictures. Even the most famous historic landmarks and buildings are amazing when seen in reality.

What's child care like overseas?
Asked by April Gruetzmacher
Igor:
This depends on the country. If we had stayed in Bulgaria, we could have probably hired a nanny and cook to help us with the baby (and still have saved money). I think children are loved the world over, sometimes to the point of being spoiled — it's not something I would have worried over.
Actually, in most other countries children are toilet trained at a much younger age. Our son was out of diapers at home when he was just over one year old. Other countries have more practical solutions to problems than finding a more absorbent diaper. Child care is free in most European countries, as is a college education.


Why did you decide to teach overseas? Did you do it so you could travel the world?
Asked by Ludy R.
Pam:
Absolutely! I was looking for a job which would offer me flexibility, creativity and a chance to see the world. It was a great decision. I hope one day to work my way around the world (I'm already halfway there!).


Is there an upper limit on the age of people who can teach overseas?
Asked by Elaine Bauman
Pam:
No. We have taught with people of all ages. If you are in good health, you will be able to teach overseas. Maturity is important because it shows that you will be able to weather the changes of living in a new environment. Those who have seen more in their lives are more adaptable.
Igor: One must understand that the schools are not able to hire you unless you qualify for a work visa. The work visa requirements differ from country to country and depend on the specific job as well as the overall employment situation. Some jobs are less sensitive to age than others. For example, school counselors. Usually the problems start at 60 years old.


Is there anywhere you wouldn't recommend working?
Asked by Suzanne Kiltille
Pam
As a woman, I would think twice about working in a country which has repressive attitudes toward women, although it doesn't seem to bother other female teachers as the pay is often very high. I wouldn't want to work in a country with an unstable government.
Two good friends of mine are in Indonesia and it was scary last spring when the students were rioting and foreigners were scrambling to get out of the country, although they say that it is now safe and there are no problems. Because the local currency devalued so intensely the dollar is king and they are living like millionaires. We decided to leave Bulgaria finally because there was a water crisis and we had water rationing two out of three days. I wouldn't want to live in a country again where water was a problem.
Igor
Please note that what Pam calls "repressive attitudes towards women" can mean quite a different thing in the local culture. For example, in some countries in the Middle East women are not allowed to drive, so the school will assign drivers to their female teachers. From the local viewpoint, though, it's not discrimination but protection and a sign of respect.
Stay away from the well-known hot spots and you are going to be just fine.


How much can you make working overseas?
Asked by Janie Ahtila
Pam
This depends entirely on your job, in which currency you are being paid and in which country you are working. In Spain, I wasn't able to save much money but I lived very well on my salary and traveled Spain extensively. Cafes and restaurants are abundant in Spain and most people spend very little time at home. Most of my friends would go home to nap or to sleep and that was about it. If housing is included in your contract you will be much better off financially.
Igor
Salaries and benefits vary greatly from school to school, from $20,000 to $95,000 for teaching positions, and $35,000 to $120,000 for administrative jobs. The real question is not how much you are going to make, but how much you'll be able to save. If you have free housing, no utility bills, no taxes, no car payments — and if the cost of living is low — even a modest salary overseas is still better than huge paychecks at home that have to cover these expenses.


Do you teach all ages or can you choose the age of your students?
Asked by David Hill
Pam
It depends on what sort of job you have. I was hired to teach first grade in Spain and then second grade in Bulgaria. If you teach at a language academy you will have to teach five or six classes per day, and you probably will not get to choose what age level you will teach. You may be able to ask for one group that is your preferred age.
And sometimes you can make a little extra money by teaching an after-school activity or sport, or by tutoring privately in town. Right now I teach English to students in grades two to five, which is nice because I interact with lots of kids.


Do you have to speak the language of the country you're teaching in?
Asked by Jonas Ethan
Pam
No. When I taught in Spain it was actually an asset that I didn't speak Spanish because it forced me to speak English with my students. However, you will pick up the language while you live there. By the time I left Spain, I was conferencing with the parents in Spanish.
Igor
In Bulgaria, the school community was truly international and the common language was English. We took lessons for two years while we lived there, but we never mastered the Bulgarian language. It makes everyday life a lot easier if you know the host country's language, but you don't need it at all to get a job overseas.


What's your favorite country?
Asked by Christian Todal
Igor
The answer depends on where you are in your life, how you are feeling and what you are looking for as you live and travel. I suppose it will also depend on how much money you have and what your standard of living will be. Russia will always be my heart and soul but I also love Turkey, Germany and England.
Pam
My first foreign country was Germany, so it will always have a place in my heart. I grew to love Spain with its diversity and history. I traveled almost exclusively in Spain during the three years that I was there. Bulgaria was an amazing country to live in. It had changed from communism to a market economy just before I moved there, and I was able to witness many interesting changes (not all of them positive). I'm sure as you travel around the world, you will find the places that you love and will want to return to, as well as the places you will want to avoid in the future.
Igor
In Bulgaria, we didn't always have all the modern conveniences we may have been used to, but it didn't matter. I loved England with its neat and trim neighborhoods — suddenly I could read and understand things around me. Turkey is also quite an amazing country — a mixture of the Muslim tradition and a western culture.


What are the best ways (or places) to get info on the good-paying opportunities that exist overseas?
Asked by Paul Thomas
Probably the best-paying jobs are with the international schools circuit. There are recruiting fairs which look specifically for certified teachers and these jobs are high paying and very secure. There are, however, many options for teaching abroad. It's always safer to be paid in U.S. dollars. We knew of a teacher who had to leave Korea because the currency devalued suddenly and he was left with bills he could no longer pay.
You can also consider Department of Defense Dependents Schools (DoDDS) that operate in 14 foreign countries, including most of the Western Europe and Japan. They pay well and the benefits are good — they even ship your vehicle free of charge.
There are many other advantages to working at an international school. For example, your school takes care of your housing expenses as well as your airfare to and from the job, along with a substantial amount of personal belongings. You are also entitled to a $95,000 exclusion on your taxable income. And you travel and meet all kinds of people — it's an adventure every day.
For young teachers, it is advisable to gain some overseas experience working at a local language academy or a small private school. Fullbright Teacher Exchange Program is also a good start for a recent college grad.


Have you ever been to England, if so what's it like?
Asked by Ethan
Pam:
I have been to England several times. My experiences there were very positive. My first trip to England was with a rail pass, so I travelled by train for several weeks before my school term began in Germany.
It's quite an expensive country. I found it very tidy and very much in order. London is one of the most amazing cities in the world. I travelled there several times from Spain and I found it extremely colorful, vibrant and exciting. I had some difficulty understanding the English spoken in Great Britain, especially in Scotland, but I remember laughing a lot because I couldn't make myself understood either. Write again if you have more specific questions about travel there and I'll be happy to answer.
Igor:
London has the best Indian food outside of India, if not better. It is incredible.


Hi Pam and Igor,
I have a student who is interested in teaching English as a second language but is unable to obtain education further than Grade 12 at this time (financial reasons). Is there any opportunity for someone without a teaching certificate? He has taught some people from Korea while they were here in Canada, so he does have some experience.
Asked by Jacquie Thom
Sure. He could teach at any language academy. There are thousands of them all over the world. At my school in Spain there were dozens of academies, and most of the teachers filling the positions didn't have certification.
Actually, the more popular teachers were the younger ones who could share the American ways and customs. The academies cater to all sorts of locals from school kids to business professionals. Simply being a native speaker of English counts for a lot at a language academy. If he can narrow down a little bit where he wants to live, he can zero in on some academies in the area or city there and begin applying.


I read your article that was published in CX. I myself am taking two foreign languages and hope that someday I will also be able to travel abroad. My plans for college are to major in foreign language (education) and international marketing. I had noticed that you had gone overseas to teach which interested me greatly. I was wondering if you might give me some hints as to how I could get started on such an endeavor. I speak German and Spanish. I'm eager to hear from you. Thanks again.
Asked by Brian Walk
Our initial reaction is to suggest that you also take some TOEFL classes or even some basic education classes when you are in school (maybe cut down on electives and fill in with education classes) so you will be certified to teach English to non-native speakers of the language. This may open more doors for you for teaching overseas and, quite possibly, get you into an international school in Germany or Spain or South America.
If you are certified to teach Spanish or German, you will have to rely on the schools overseas which offer those programs (my hunch is that French is offered more than the other languages). And usually a local person is hired (cheaper) to teach the host language to the students.
Teaching at an international school would be in English, however your language skills would be necessary outside of school or for helping the administration deal with the host country and local staff. Our friend Erik Richardson is a language wizard. He mastered Bulgarian quickly and is presently in Indonesia. The school sent him to an intensive one-on-one language course this summer to improve his language ability and he is instrumental around the school on a day-to-day basis.

Was it ever dangerous on your travels?
Asked by Beth Robertson
Pam:
I was only physically scared once or twice in all the time I was overseas.
Once was in Portugal while walking down a very narrow fish alley in a coastal town. Sharp and enormous filleting knives were being used on all sides, there were mounds of fresh fish to be prepared for market and there was barely room to turn around. I became claustrophobic in a big way and knew that an enormous arm was going to come out and haul me off into one of the closed doors.
The other time was when I attended a gypsy festival in the south of France. Heaven knows why we decided this would be fun. We were going to camp out on the beach and, luckily for us, we found a large hospice tent set up by a local church. I entered that tent on Friday night and didn't come out until Sunday when we were leaving. It was SCARY! I saw enough just sitting in the tent watching the people coming in and out to know that I really didn't want to see more of what was on the other side.
Igor: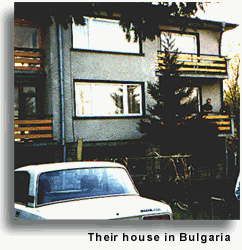 Most crimes in the places where we lived were against property, not people. We were robbed in Bulgaria while we were at school. Someone was probably scoping out our house, watching our schedule. We were robbed about an hour after school began. There was a team of robbers, three of them, and they split up and searched the house looking for nothing but jewellery and gold (which they found because we had everything in our top drawer!). They disappeared before the police arrived. Apparently they had a portable radio that was tuned to the police channel to warn them in advance.
However, the violent type of crime is much lower abroad compared to the United States. In Japan, for example, gun-related violence is 0.5 per cent of the U.S. level — that means it's practically non-existent. Personally, I feel quite safe almost everywhere because of the strict gun control laws in most foreign countries. Yes, they can steal your bags at the airport, but it is very unlikely that someone will confront you with a weapon. In Spain, people are out on the streets until 3 in the morning and nobody cares.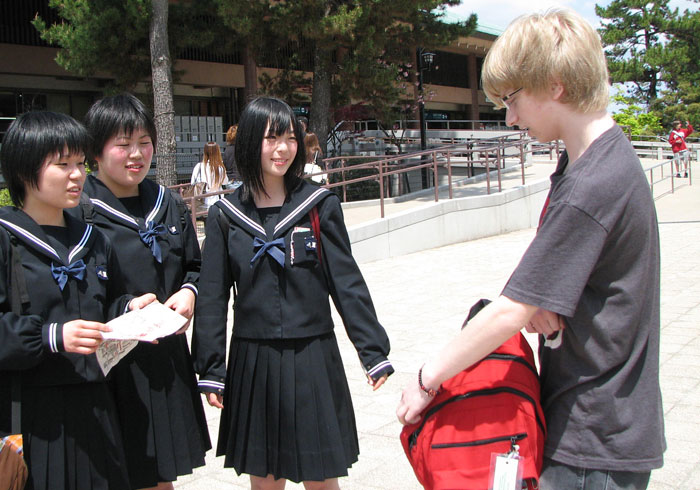 2010 - Japan